Accomplish Your New Year Goals With Our Help
Your confidence and the way you hold yourself as a woman has a drastic impact on your everyday life. Investing in yourself and taking necessary self-care steps is critical to achieving your overall goals and giving yourself an extra boost at home, at work, and while out in the community. Atomic Beauty is a med spa helping women in the Dallas-Frisco area accomplish their New Year goals with the same dedication and quality we provide the Dallas Cowboys Cheerleaders. Explore all our modern med spa Frisco services  to help you lose fat, achieve flawless skin, and live your best life!
Invest In Atomic Slimming 
It's our belief at Atomic Beauty that every woman who visits our med spa in Frisco, TX deserves to have the body they've always wanted! Our establishment can help you accomplish your goal of losing stubborn and unwanted fat from your abdomen, arms, bra area, thighs, and hips with our signature Atomic Slimming service; our unique med spa combination of Vanquish and Coolsculpting is designed to provide a helping hand to remove fat that diet and exercise alone won't eliminate. Investing in a series of three to six sessions — all non-invasive with no downtime whatsoever — with Atomic beauty can help you look your absolute best!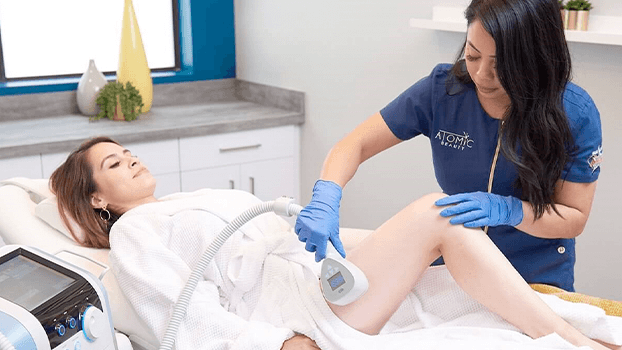 Follow Up With Atomic Tightening 
If your goals for the New Year involve dedicating much-deserved time to yourself and your self-improvement, Atomic Beauty can help! Our med spa Atomic Tightening service is slightly different from normal botox, as it is designed to stimulate natural collagen production in your skin. This treatment from our med spa in Frisco, TX is non-invasive and requires no downtime, utilizing Exilis technology to improve your skin's texture and prevent wrinkles. The best botox possible can be accomplished with Atomic Tightening, capable of being performed on both the upper and lower body!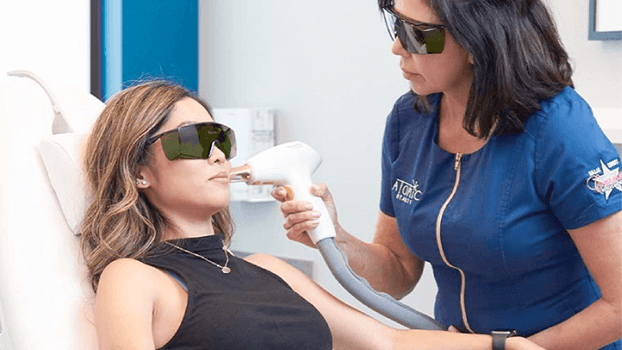 Ensure Quality Results With Atomic Smoothing 
Cellulite shouldn't be — and doesn't have to be — a hindrance to your own self-confidence! Women throughout the Dallas-Frisco area should feel confident at all times, and that's exactly what our Atomic Smoothing service can help with. In addition to our other signature high-tech med spa services, Atomic Smoothing is designed to provide tighter, smoother skin through microcirculation. This quick, pain-free treatment operates the best botox treatment available in the area, helping women to have the body they've always wanted!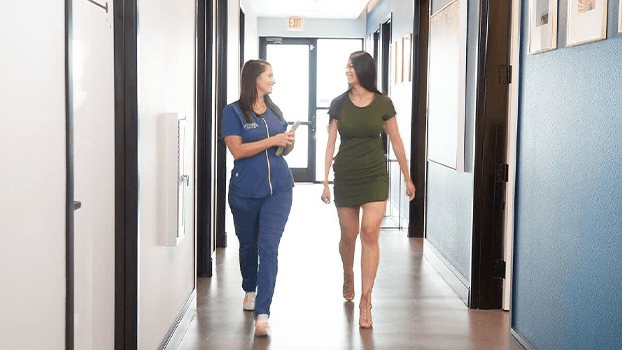 Book Your Appointment With Atomic Beauty Today
Ensure you accomplish all your New Year goals with Atomic Beauty, the official med spa of the Dallas Cowboys Cheerleaders! Our med spa's goal is to help women in the Dallas-Frisco area invest in their skin and their overall beauty, so they can leave our establishment feeling like a million dollars. In addition to our body-centered services, we also provide treatments focusing on botox, skincare, microneedling laser treatments, and more. Book your appointment today!